January 21, 2021
The Sahara Desert Night Time: Pro-Tips You Need
Planning to spend an evening under stars in the Sahara Desert is an experience that's impossible to have elsewhere in any part of the world. It is why, if you have time, it is highly suggested to spend more than one night in the desert. But before anything else, you will also need to compose yourself because of the possibilities that you will encounter. With that said, here are some tips that you can prepare to have an overnight stay in the desert.
The temperature at night is different
Sahara temperature at night is different in broad daylight. It varies from 20 degrees Celsius to as low as 10 degrees celsius. That is why if you are going to spend a night or two, make sure to have tents and comforters with you. You will be needing them to protect yourself from the winds and sand blowing.
The tour guides are your family
Since you are away from your home, aside from your friends, tour guides can also be part of your circle.  Tour guides usually are Moroccans that are there to assist you in any way that they could. They're not only there to be your travel companions but they are also there to take care of your accommodations. It still feels like home but the only thing different is that you are spending a night in a desert. It adds up to the experience especially seeing the sky at night. A lot of stars are seen because there are no trees and buildings that cover them.
A Camel is your go-to ride
One of the things that you can add to your bucket list here is riding a camel. Due to the sand dunes in the desert, the best way to travel is by riding a camel. It is really essential and effective because camels can carry a lot of stuff as well. Moreover, they can withstand the scorching heat of the sun. More so, survive a trip with less water consumption.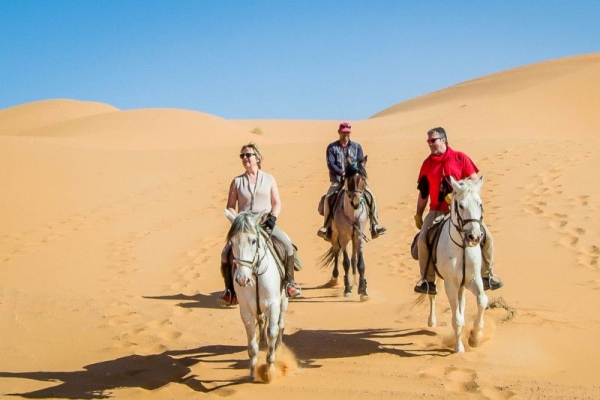 Bring your own personal comforters
Due to the fact that tour guides only bring you the essentials they can provide, such as tents and rugs. You might want to have your back up pillows and comforters. So, if you want extra comfort, feel free to bring with you your favorite pillow.
Be cautious of wild animals and poisonous cacti
It might be scary to think but it is innate that there are also snakes in the desert. So be sure you do not leave a friend behind or go on a walk alone. By that, you will be able to protect each other and prevent something bad from happening. Aside from that, be aware also that there are cacti that are pretty but really poisonous. So before you decide to have a walk at night. Ask for a permission or better yet, have a tour guide accompany you along the way.
Now that you are fully-packed with the pro-tips above, you are ready to face the wilderness of the Sahara Desert.